Australia's Electric Vehicle footprint: State v's State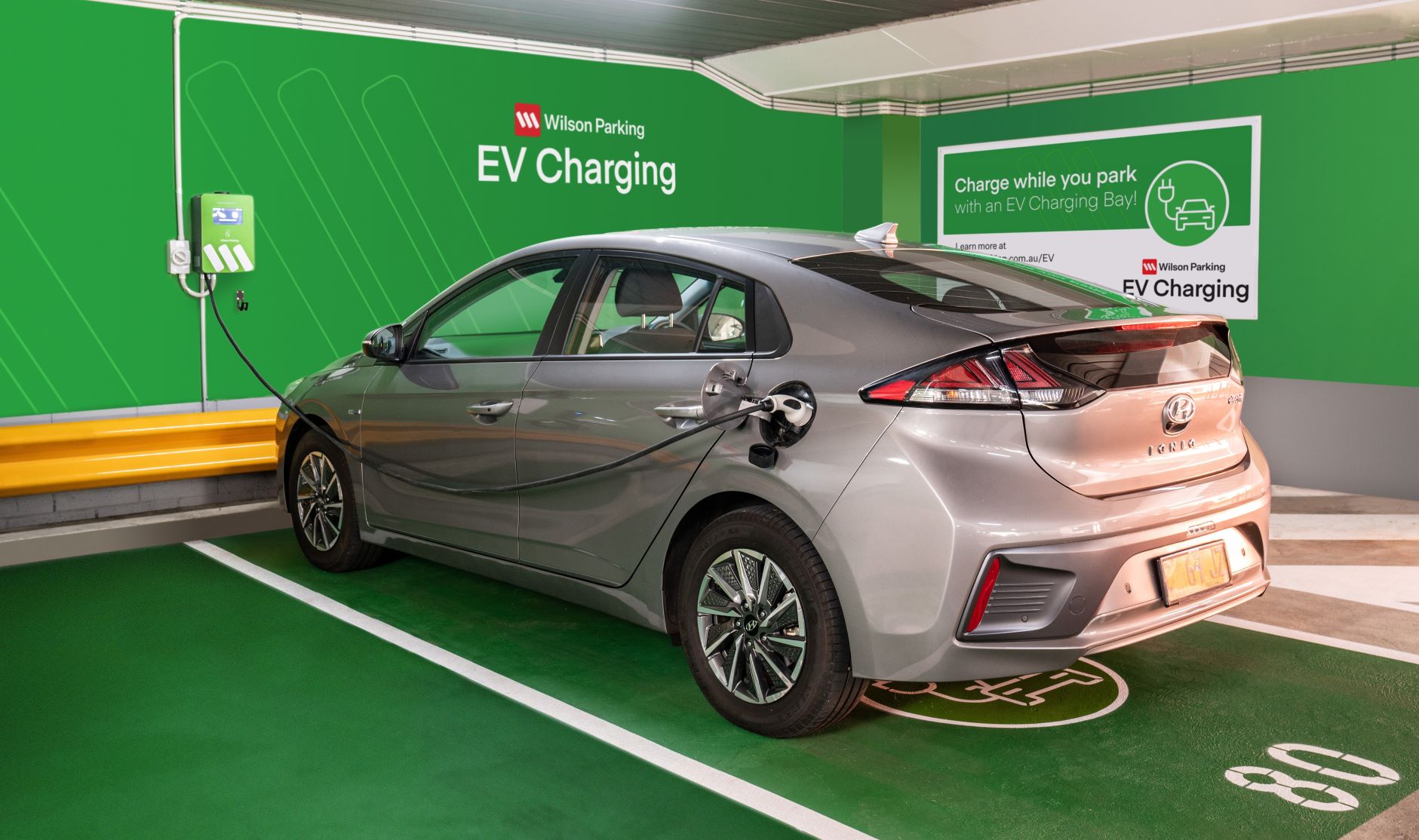 Increasing the use of Electric Vehicles (EVs) in Australia might be good for the environment and a critical step in helping Australia reach our net zero emissions by 2050, but the reality is that owning and running an EV is much easier and potentially more cost effective depending on what state you live and work in – and this rings as true for property landlords trying to plan and accommodate for the increasing demand for EV charging facilities within commercial car parks.
New EV purchases in Australia almost doubled in 2022, compared to 2021, according to the Australian Electric Vehicle Council – but it needs to increase significantly to keep up with the rest of the world.
Support, action, the right infrastructure, and incentives are critical in increasing our EV use.
Several incentives, including rebates and tax exemptions, are being offered by state and territory governments to ease the financial burden for drivers and property owners and landlords.
We've reviewed what's on offer in each state and what their goals are to help drivers and commercial landlords understand what's possible.
ACT
The ACT government has committed to a range of actions and policies to make zero emissions vehicles more affordable and accessible to Canberrans – and the combination of incentives and other policy measures to promote EV adoption is proving to drive action.
The Australian Electric Vehicle Industry Recap 2022 shows that the ACT continues to be a leader in EV penetration in Australia, with the highest percentage of EVs purchased (9.7%).
As part of an effort to make public charging easier the ACT Government is expanding the number of public charging stations, with the network expected to grow to 100 public chargers this year 1, as well as supporting home charging stations.
The ACT Government has announced a new Zero Emissions Vehicle (ZEV) strategy, including a target of 80-90% of light vehicle sales consisting of ZEVs by 2030, and a phase-out of ICE vehicles by 2035 1. They also have offered some financial incentives including no stamp duty, two-years free registration, as well as ZEV loans for eligible households up to $15,000 with zero interest 2.
NSW
The NSW Government says it wants to be "the easiest place to buy and use an EV in Australia."
The state appears to be on the right path to achieving this goal with NSW's market share of EVs doubling to 4% in 2022 according to the Australian Electric Vehicle Industry Recap.
Since the NSW Drive Electric Fleets Incentive began, 2,200 battery EVs have been added to NSW roads, increasing the total number by 10% 1.
In terms of investing in a solution, the NSW government has committed:
$20 million to co-fund the purchase and installation of EV chargers at eligible regional destinations.
$10 million to be invested in kerbside EV charging 1.
2 x rounds of the $149 million public EV Fast Charging Grants scheme to co-fund infrastructure across the state – 86 ultra-fast charging stations are already underway as part of round one, with round two in progress 1.
$10 million to support over 125 strata buildings to retrofit the electrical infrastructure required to install EV chargers 1.
$3 billion under its Zero Emission Buses program to replace the entire NSW bus fleet with electric vehicles and conversion of 11 existing bus depots for electric charging 1.
Northern Territory
The NT Government has developed an electric vehicle strategy and implementation plan that will address climate risk and create new business and economic opportunities.
As of mid-2022, EV drivers in NT can access registration concessions through to 20271, in addition to stamp duty on the first $50,000 of the purchase price being waived, representing a $1,500 saving1.
The NT Government has also committed $300,000 to the provision of residential and business grants for co-funding EV charger purchases and installation1.
EV orders in the NT Fleet more than tripled in 2022/23 financial year and the EV market share almost doubled between 2021 and 20221 – all positive signs of heading in the direction of stronger EV uptake.
Queensland
The QLD Government is aiming for half of its new passenger vehicles sales to be zero-emission by 2030, and 100% by 20361.
QLD's Zero Emission Vehicle (ZEV) Strategy and Action Plan, introduced in March 2022, provides a 10-year transition plan that includes a sales target of 200,000 EVs by 20271.
Actions and initiatives being taken to achieve this ZEV strategy include:
A purchase rebate of $3,000 for all new battery EVs with a total purchase price of up to $58,0001.
$10 million to co-fund the installation of public fast charging infrastructure across the state. This initiative builds on the Queensland Electric Super Highway, including the Phase 3 expansion which adds 24 sites in regional Queensland 1.
An updated QFleet Transition Strategy with a goal of converting 100% of eligible passenger vehicles to zero emission vehicles by 2026, with an acceleration of the transition to meet public demand for electric passenger vehicles1.
South Australia
The SA government says it wants to be a "national leader in electric vehicle uptake and smart charging by 2025".
By 2035, SA hopes that all new vehicle sales will be electric vehicles4.
In order to power these vehicles, the SA Government has awarded a $12.4 million grant to the RAA for the construction of a state-wide EV charging network1 with 530+ regular, fast and ultra-fast chargers across 140 sites, with more than 75% of sites in rural areas1.
As part of the SA Government's EV Smart Charging Trials, last October, Wilson Parking, in partnership with AGL, launched the first of 18 electric vehicle chargers at Wilson Parking City West facility. These 18 EV charging bays are available in three car parks across Adelaide CBD.
Victoria
Victoria is aiming for half of all light vehicle sales to be zero emissions vehicles5.
The Government allocated $1.5 million under the EV Charging for Council Fleets program to 26 local councils to co-fund installation of 120 charging sites1.
And a further focus on building the necessary infrastructure and skills, the government is investing $950,000 in a pilot program for 500 licensed electricians to develop the electric vehicle workforce fundamental to the expansion of the EV charging network1.
Tasmania
Tasmania continues to support EV adoption and plans to have an all-electric government fleet by 2030 following the introduction of stamp duty and registration fee exemptions in 2021.
Under its ChargeSmart Fast Charging Program, the government continues to support the installation of charging infrastructure across the state1.
As part of the government's emissions reduction plan, Tasmania has also set a target of achieving net zero emissions by 2030 and will deliver emission reduction plans specific to the transport sector in late 2023.
Western Australia
WA is aiming to reach net zero emissions by 2050.
And they are investing in this goal with the following initiatives:
$60 million Clean Energy Car Fund - Adding to the existing $21 million State Electric Vehicle Strategy. This includes $36.5 million for up to 10,000 rebates of $3,500 to Western Australians purchasing EVs up to a value of $70,0001.
More than $22 million in the WA EV Charging Network by the WA Government.
$15 million will be allocated to help Not-for-Profits, SMEs, and local governments install charging infrastructure, and $4 million will be allocated to train stations to install charging infrastructure1.
-------------------
EV sales are expected to continue to rapidly increase in the coming decade and as the EV market grows, public charging will also need to expand.
The same level of simplicity, autonomy, and services will increasingly be expected from EVs as they are from conventional vehicles, which is going to require a unified goal and effort from governments, commercial property owners, energy providers, businesses, and the community at large.
We're continuing to plan for and support the transition, Wilson Parking offer EV Charging in selected CBD car parks, so customers with EVs can charge their cars more conveniently.
-------------------
1 Australian Vehicle Industry Recap 2022
2 Everyday Climate Choices – ACT Government's website
3 Media Release: New support to make NSW Australia's EV capital
4 South Australia's Electric Vehicle Action Plan
5 Zero Emissions Vehicles Facts – VIC Government's website