Wilson Parking supports First Responders Day
Wilson Parking is proud to participate in the First Responders Day hosted by the Australian Retailers Association on Thursday, 25 June 2020.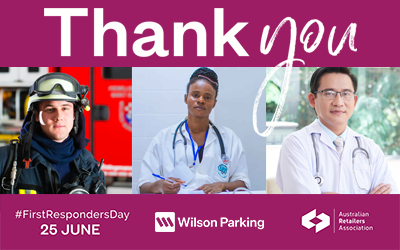 Along with many Australian retailers, we joined in saying thank you to our First Responders for their continual hard work keeping us safe during the Australian bushfires and the COVID-19 crisis.
Stephan Wuffli, CEO of Wilson Parking Australia Comments,
"Our First Responders do outstanding work all of the time, but 2020 has been a particularly tough year for all. Our First Responders continually give more than 100% committment, often puting the care of complete strangers ahead of their own well-being. At Wilson Parking, we wanted to help these remarkable people and didn't hestitate to be part of the Australian Retailers Association First Responders Day".

As a token of our thanks, Wilson Parking offered FREE Night parking when first responders booked online across our national portfolio.