New EV Charging stations launch in Adelaide CBD car parks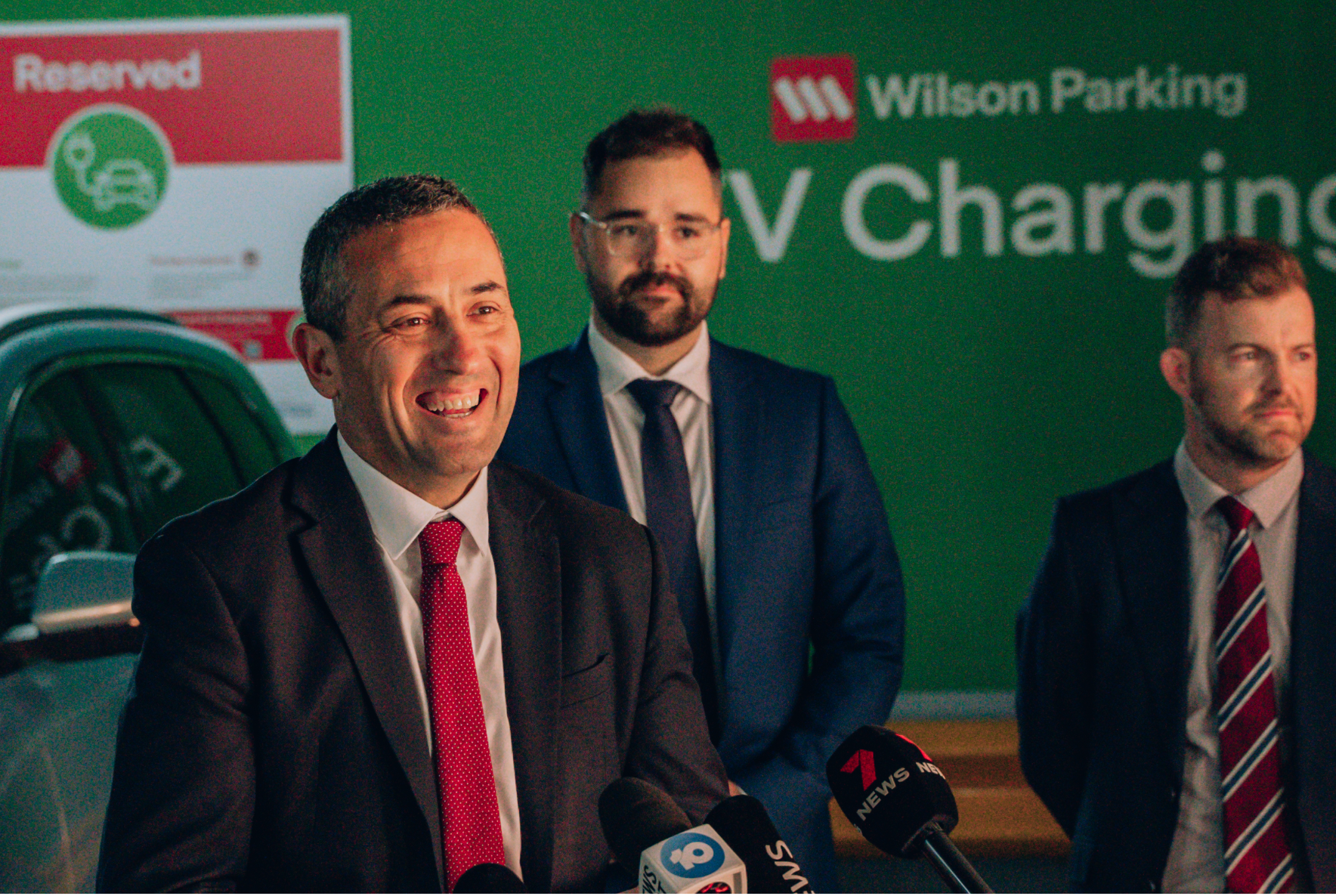 Electric vehicle drivers who park in Adelaide's CBD have more options to power up, thanks to an innovative trial being launched today at 1pm at Wilson Parking, City West, 189 Hindley Street.
Minister for Energy and Mining Tom Koutsantonis, AGL General Manager Emerging Business, Bruce Hardy and Wilson Parking Chief Technology Officer Paul Sidwell launched the first of 18 EV charging systems at the Wilson Parking City West car park as part of the EV Smart Charging Trials.
The EV Smart Charging Trials will support the electrification of South Australia's transport fleet, playing a vital role in the overall transition from carbon-emitting technologies to a greener, cleaner future.
Minister for Energy and Mining, Tom Koutsantonis comments, "Our clean energy transformation is not only lowering transport costs but creating a cleaner and healthier environment for all South Australians. With the EV Smart Charging Trials, we will have over 142 EV charging stations installed and monitored across South Australia"
The trials will demonstrate ways in which electric vehicle drivers can be incentivised to charge during periods of high renewable electricity generation or low grid demand.
Tom Koutsantonis continues, "The information and data that we will gain from the trials will help build our EV future and allows us to seamlessly integrate over 1 million EVs into our electricity system over the next 20 years"
AGL and Wilson Parking are playing an important part in the Smart Charging Trials by helping their customers charge at times convenient to them, while easing charging demand during peak pressure times on the energy grid.
AGL General Manager Emerging Business, Bruce Hardy comments, "These EV smart chargers will allow drivers to plug in and charge their vehicles at a parking space when and where it's more convenient for them and at times when there is more renewable energy in the grid. With more EV charging stations around Adelaide and the right charging infrastructure in place, we're confident even more South Australian drivers will make the shift to EVs".
Overall, the integration of smart charging will improve affordability, reliability, and security of electricity supply for South Australians, along with aiding AGL to further understand the typical patterns relating to EV use in public carparks by collecting data, analysing usage, and understanding charging behaviours.
Corporate, fleet, and individual customers are being encouraged to take up the opportunity of an electrified car space. This will allow Wilson Parking subscribed customers access to their own EV charging bays, with all-day charging, 24-hour, 7 day a week access to their bays and unlimited entries and exits.
Corporate, fleets and individual customers will be offered EV subscription pricing options which will include the availability to sign up to a flat-rate subscription model with bundled electricity costs.
In addition to the CBD location, EV charging stations will also be provided at the Wilson Parking car park, located at Lot Fourteen, and AGL will provide up to six EVs and 10 smart chargers to Centacare and Uniting Communities to help begin these community organisations transition their commercial fleets to EVs and enable workplace and home charging.
Wilson Parking Chief Technology, Paul Sidwell comments, "We understand that the needs of our customers are evolving, and to facilitate the transition to electric vehicles, charging must be more accessible.It is part of our goal to engage constructively with our fleets and corporate clients across Australia to ensure their sites can accommodate charging needs for EV drivers. With this step forward, we will accelerate the future of low-carbon transport while providing our customers with convenience and efficiency"