Be aware of scammers pretending to be Wilson Parking
Updated 10 November, 2022
We are aware of a current SMS phishing campaign, pretending to be from Wilson Parking. The fraudulent messages prompt recipients to follow malicious links, claiming that they need to make payment or provide personal details.
Please see an example below.
DO NOT click on these links or provide any payment or personal information.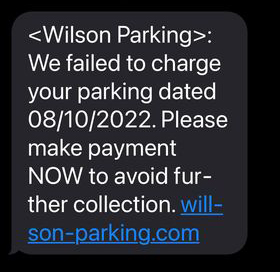 Phishing is where an attacker encourages you to click on a link to gain personal or payment details.
These messages have been made to appear to be from Wilson Parking.
Delete the text messages and do not provide any personal details
If you receive a text message of this nature, do not click on the link, do not make payment or provide any personal details.
If you ever have concerns as to the legitimacy of a text message, phone call or email from us, please call us on Wilson Parking's publicly listed number.